As my post-analysis continues, I am seeing patterns of mistakes emerge.  As I continue with these blog posts, I am going to begin to define rules that I will incorporate into my trading plan to counteract my mistakes.  The rules will be specific to my own approach and objectives.  This is an important step for me.
My goal as an investor is to identify great growth stocks, buy them relatively early in their lives as public companies, and campaign them through a large and lengthy markup.  In this regard, my mindset is similar to the mindset of the CO.  At the same time, I am at a stage in my life where I need to protect capital (but that can be said about every stage of life).  I already have a process in place to identify candidates in which to invest.  My emotions and lack of discipline have derailed my goals.  Rules are needed!
Here is an example, followed by a rule that I have created to overcome this type of mistake.  Shopify, SHOP, has been a transformative company in the online B to B marketplace.  I recognized this shortly after the company came public in 2015.  Unfortunately, the overall market context was wrong as revealed by the chart weekly chart below of the Dow Jones US Total Market Index, a broad indicator of the overall US stock market that I track.  My purchase and sale of SHOP occurred on consecutive weeks in early August 2015 at the points denoted by the blue arrows on the chart.  This was just as the overall market was transitioning from an up-trend to a sideways consolidation (the green rectangle on the chart).
The next chart is the weekly chart of SHOP.  The blue rectangle corresponds to the green consolidation range on the first chart.  Clearly the stock and the market are connected at the hip – as is generally the case.  I included the Wyckoff structure which developed – a down-sloping TR – and will leave it to the reader to identify optimal POE's.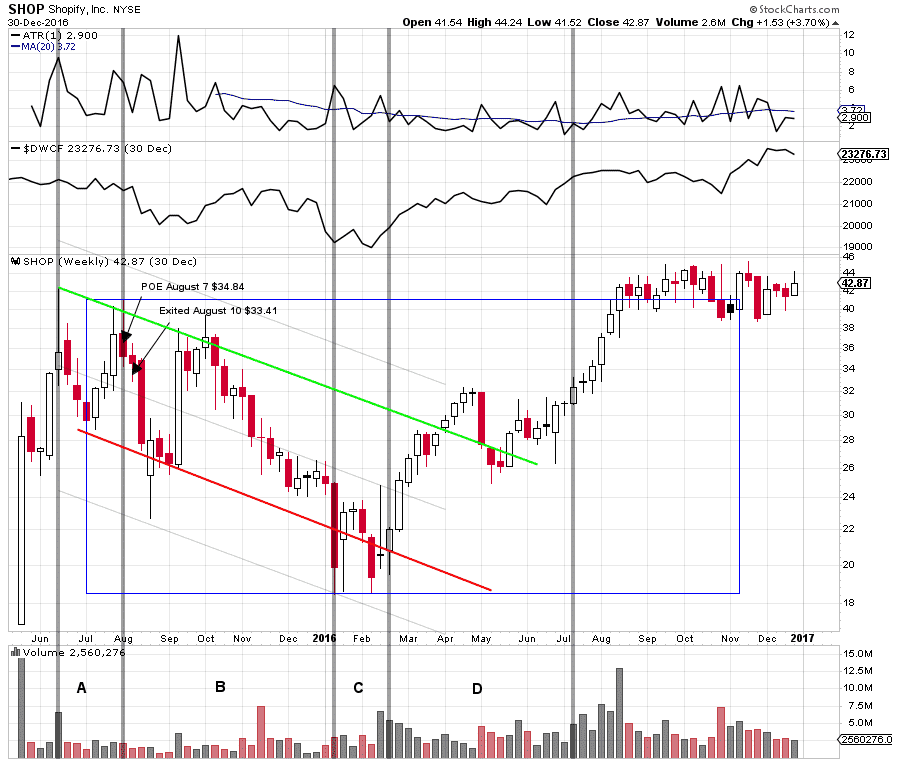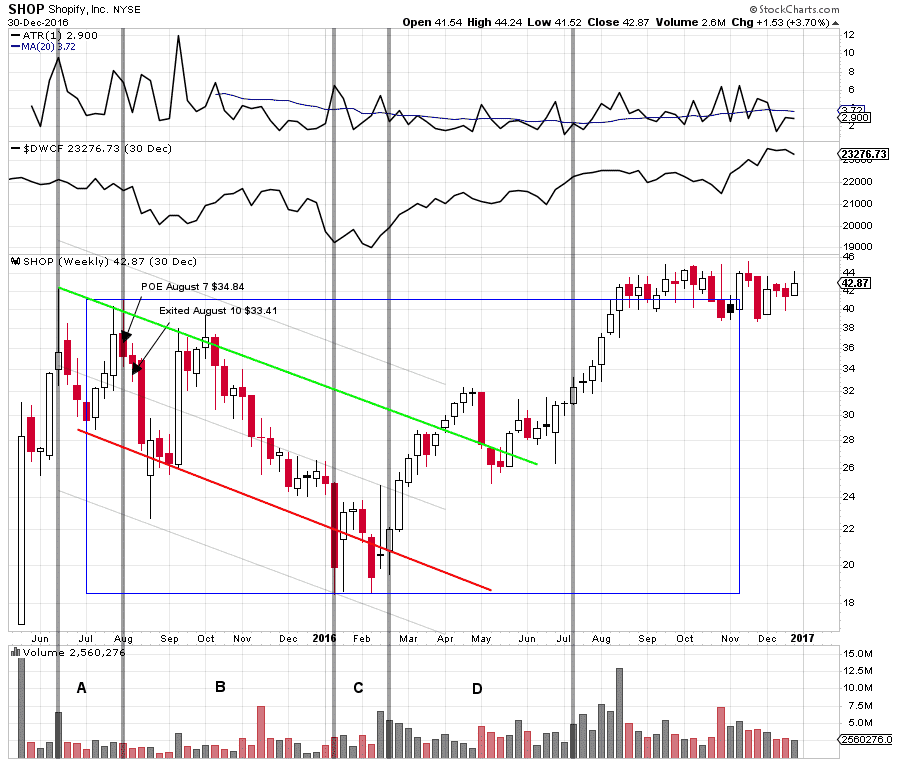 The last chart is the monthly history of SHOP to the present, which I include to remind myself of how profitable growth stock campaigning can be.  Unfortunately for me, once bitten twice shy and another one got away without me.
Now for the next step, defining a rule.  Rules can fit into various categories, this one will help me with entries.
The optimal entry for the growth stocks I seek to campaign is during Accumulation or Re-Accumulation in the overall market, beginning at Phase |C| in the Wyckoff structure.  I will be patient and wait for this opportunity to develop.  This is a point of fear.  I will strive to identify this point and use it as a Point of Entry for candidates from my Watch List, in spite of the emotional pressure and resistance I will be feeling.
Here I will add an unsolicited commercial for Roman and Bruce's Weekly Market Discussion.  Each of their sessions begins with an in-depth review of the markets which are extremely beneficial to me in identifying the market structure.  This blog is about mistakes, but I know I am not making one in suggesting that anyone not taking advantage of WMD will be well served by attending them regularly.
I am not afraid of making mistakes.  Everybody does it.  I will take the lessons learned and improve my future trading results.